COMPETITOR INFORMATION
What You Need to Know to Compete
Ready to enter in the Elko County Fair? Here's where you can get entered or keep up with the latest information available regarding schedules, draws, deadlines, etc. Keep in mind that there are separate sections for the Stock Horse Show (Stockhorse, Team competitions), Racing, Home Arts and everything else there is to do at the Fair.  Please see below the different sections with entry forms, draws, results and so much more…..
 ELKO COUNTY FAIR STOCK HORSE CONTEST
AUGUST 25 THRU SEPTEMBER 4TH , 2023
Sagebrush Cutters : August 25, 2023  CANCELED 
Miners Branding & Youth Branding August 26, 2023
John Henry Roderick Memorial Drawpot Branding August 27, 2023
Elko County Fair Stockhorse Show is August 31 thru September 4, 2023    New schedule
Thursday August 31st

 
8:00 a.m. Herdwork for all Snaffle Bit, Hackamore/Two Rein
(Non-Pro & Senior Cowhorse will run after completion of the snaffle, hackamore/two rein classes)
Non Pro & Open Snaffle Bit Reined Work
Non Pro & Open Hackamore/Two Reined rein & call for cow
Ranch horse class herd work
FRIDAY, SEPTEMBER 1
8:00am Non-Pro/Open Snaffle Bit Fence work
(immediately following the fence work)   Ranch Horse Class Reined, Fence & Rope
Approx. 1-2 p.m. Women's Branding Eliminations
Approx. 4:00 p.m. Open Branding Eliminations
Infield open for parking after last race, must be out by
12 a.m. (Enter from Golf Course Road only)
SATURDAY, SEPTEMBER 2
8:00 a.m. Nevada Cattle Working
Women's Class
Approx. 5:00 p.m. Co-Ed Branding Eliminations
Western Dance
SUNDAY, SEPTEMBER 3
8:00 a.m. Champion Nevada Cowhorse
1:00 p.m. Finals Women's Branding (3 Team)
Finals Branding Open & Co-Ed Branding (6 Teams)
Finals Youth Branding (3 Teams Each Age Division)
Senior Branding Contest
Presentation of the JM Capriola Outstanding Stock Horse & Elko Federal Credit Union Outstanding Rider Award
Approx. 5:30 p.m. Team Roping Entries Behind Fair Office 1 – 5 p.m.
Western Dance
MONDAY, SEPTEMBER 4
8:00 a.m. Junior Riders 13-16
Approx. 10:30 a.m. (Reined work first for both youth classes;
cow work to follow)
Young Buckaroos 8 & Under
Junior Riders 9-12
HORSE RACING
   AUGUST 25, 26  & SEPTEMBER 1,2,3,4, 2023
DOWNLOAD, PRINT, AND SUBMIT
 These are the forms for the Elko Races and information on the Western States Futurity
click below for information on the futurity, derby and Western States Futurity
2023 RACE nominations reports as of 8-21-23
We will begin paying out premiums as early as possible, in order to provide you with pocket money as you go to the Fair. Be sure to check back in to the Home Arts department on Saturday to pick up your winnings.
Also be sure to read the Home Arts rules and schedule, as well as the rules for each department you enter.
Once you know what you'd like to enter, you can visit the main Home Arts Building, either Wednesday, August 30th  8am to 6pm, or Thursday, August 31st 8 AM – 12:30 PM. Please keep in mind that NO entries will be accepted after 12:30 PM on Thursday. All entries need to be turned in before this time in order to be accepted.
Whether you've entered online or may want to do it in person the way we've always done it, bring your entries to the Goicoechea Home Arts Building during check-in hours. We'll get you your exhibit tags and make sure your entries get where they're supposed to go. We'll close the doors at 12:30 PM sharp and will start the judging process at that time. Doors will re-open at 1 PM Friday, and you'll be able to see how your work stacks up against that of other Nevada residents.
Please remember that entering the Home Arts competitions costs $7 per exhibitor, per 10 items. That means you can enter 10 exhibits for the same price that you can enter one! If you have more than 10 items it will be another $5 per additional 10 items.
Also be sure to read the Home Arts rules and schedule, as well as the rules for each department you enter. The schedule can be found below and in the 2023 Home Arts Premium Book along with the rules for each department.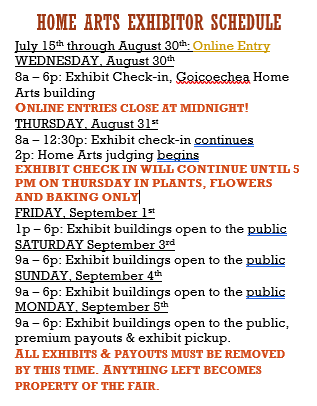 Elko County Fair Premium List
Home Arts Departments
Plant Products – Ranch, Range, & Town
Baking
Canned Products
Crocheting, Knitting & Yarn Crafts
Fine Arts
Flower Show
Quilting
Hobbies & Creative Crafts
Indian Crafts
Photography
Sewing
Home Arts Exhibitor Schedule
August 1st through August 30th
WEDNESDAY, August 30th 
8:00 AM – 6:00 PM
Exhibit Check-in, Goicoechea Home Arts building
THURSDAY, August 31st  
8:00 AM – 12:30 PM
Exhibit check-in continues
12:30 PM Check-in CLOSES
Home Arts judging begins
FRIDAY, September 1st
1:00 PM – 6:00 PM
Home Arts Exhibits open to the public
SATURDAY September 2nd
9:00 AM – 6:00 PM
Home Arts Exhibits open to the public
SUNDAY, September 3rd
9:00 AM – 6:00 PM
Home Arts exhibits open to the public
MONDAY, September 4th
9:00 AM – 6:00 PM  Premium payouts open
Home Arts exhibits open to the public
9:00 AM – 6:00 PM      Home Arts exhibits may be picked up by exhibitor
All Home Arts exhibits must be removed by this time.  All Home Arts premium money MUST be collected by this time or it will be forfeited to the Fair.  No exceptions.