GUEST INFORMATION
Visitor's Guide to Preparing for the Fair
You'll never find a better entertainment value than the Elko County Fair! With a seat in the grandstands, you'll get a fun afternoon full of good friends, delicious Fair food, exciting live horse racing where you can bet on the winners, and one of the most talent-laden horse and cowboy competitions the Silver State has to offer.
The Elko County Fair Office opens August 7TH at 9:00 am. Office hours will be 9:00 am to 12:00 1:30 to 5:00pm.
The following list displays pricing for various events:
General admission:
Adults:  $8 per day
Children (3-12yrs):  $1 per day
Children (0-2yrs):  FREE
Reserved seating:
$10 per seat per day
Clubhouse** table (4 seats): SOLD OUT
**Unfortunately, Clubhouse seating is not handicapped-accessible. We apologize for any inconvenience.
Season Pass (all 6 days):
$48 per person
As a courtesy to our guests, and for public safety reasons, strollers are not allowed in the Grandstands. We will provide secured stroller parking near the Grandstands entrance for your convenience.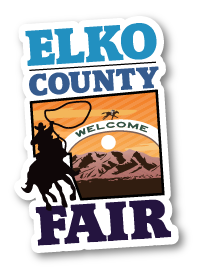 Elko County Fair Logo Wear
Get your hands on some high-quality wearables featuring the Fair's fun and colorful graphics! We have ball caps and visors available for purchase, so be sure to get yours before the Fair starts! These items are available at any time of the year, all you have to do to get yours is contact the Fair Office by phone at 775.738.3616 or by email at elkocountyfair@hotmail.com.
Because anything and everything can happen at the Elko County Fair, our Fair schedule is tentative. We will continue to update the schedule regularly, but as we get closer to the date of the Fair this schedule will become more concrete. Please keep in mind that this schedule is subject to change at any time for any reason, so please check back for updated information!!
Visitor's Guide:
Lodging & Sight-Seeing
The Elko Convention & Visitors Authority has published a beautiful Visitors' Guide for guests coming into the area. It has local lodging and camping options as well as other things to see and do around Elko County – as if the Fair isn't enough!
Elko County Fair
MAP
Need to locate where the Cowboy Dance is held? We've got you covered! Here's a map of the Fairgrounds to help you navigate your way through all the fun!