CELEBRATING 100TH ANNIVERSARY
ELKO COUNTY FAIR
August 27th – September 6th, 2021
LABOR DAY WEEKEND
COVID-19 ANNOUNCEMENT
2020 Elko County Fair 100Th  year celebration has been canceled.
We are still having some stockhorse classes and the branding contest please read below for more information and go to the competitors page for entry information!
COVID-19 pandemic is causing disruptions and cancellations all over the United States.
Due to Governor Sisolak extending the current restrictions with no time limit as to when they will expire. Declaration of Emergency Directive 021 – Phase 2 Reopening.  Sections 10 and 22 forbid groups of more than 50 people in any indoor or outdoor area and do not allow public attendance at events. In Phase 2, events with live performances and live performers will not be allowed with spectators.
Even with face coverings, social distancing, and all proper precautions in place we cannot follow most of the guidelines. The Governor, along with the Nevada Gaming Control Board, holds all control of gaming licenses. We cannot risk losing our current license or possibly ever attaining another one to continue with Live Horse Racing at the Elko County Fair in the future.
Although we did postpone the Elko County Fair 100th Celebration with Live Horse Racing, concerts, and Home Arts until 2021, we are going to try to run some events.
We will be moving ahead with the Elko NOFair Contest, a Livestock Show and Sale (formerly 4-H), some Stock Horse events, Barrel Racing, Team Roping, Muley roping, and Branding Contest. We are working out all the logistics and safety measures at this time to comply with the Governor's Covid 19 mandates.
ENTRY FORMS AND INFORMATION ON THE ELKO NOFAIR CONTEST IS ON THE COMPETITORS PAGE
Questions please email: elkocountyfair@hotmail.com or call Elko Co Fair Secretary JJ Roemmich 775-397-2769
Fun at the fair
This year, the Elko County Fair celebrates its 100th Anniversary! Can you believe the Elko County Fair has been mixing families and fun for 100 years now? With several different events and a variety of entertainment, there's something for everyone to enjoy at the fair. We have everything from crafts and critters, to live music and fair food, horse racing and the Stock Horse Show, and so much more! You won't want to miss the funnest summer event in Nevada, so join us! Come finish out your summer with your friends and family at the Elko County Fair – Labor Day Weekend.
Guest Information
There's so much to see and so much to do at the Elko County Fair! Here, you can purchase tickets, and find more detailed information on Fair events and other activities. We've created a full schedule of events that you can enjoy at the Fair, as well as a map showing where all the excitement is happening. We've also included lodging information for our out-of-town guests, though it might be difficult to find time to sleep with all of the fair fun going on! Click the "Guest Info" button to get your tickets to the Fair today!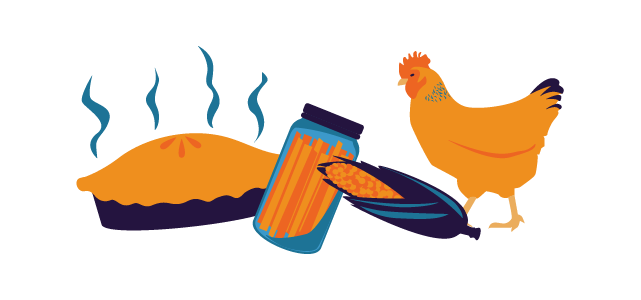 Make it, Bake it, Grow it, Show it!
BECOME AN EXHIBITOR
One of the best ways to enjoy the Fair is to be an exhibitor. Here you can get information on entering any of the hundreds of contests we have here at the Fair. Choose from home arts exhibits, the Cowboy Color Chase, the Stock Horse Show, horse racing, the parade, any of the family fun competitions, and much more. There's a contest for everybody at the Elko County Fair!
For more than 100 years, hundreds of volunteers and dozens of local businesses have teamed up to bring you Nevada's most entertaining end-of-summer event. With various events to take part in, there truly is something here for everyone to enjoy!
We welcome you to join us as a contestant, a guest, a volunteer or as a sponsor. There are all kinds of ways you can get involved in YOUR hometown county fair, so join us! We can't wait to see you there!