History of the Fair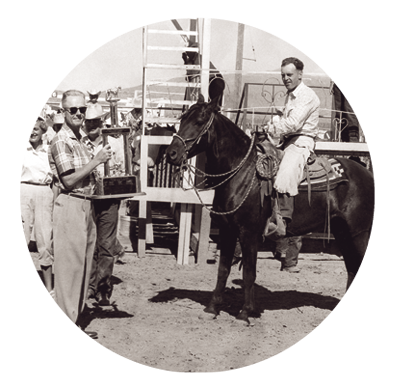 The Elko County Agricultural District #4 was established by the Nevada Legislature early in the 20th century, and the first Elko County Fair was held September 16-18, 1920.  The goal of the Fair and of the agricultural district was to promote agriculture and the local economy by production of an annual fair or exposition highlighting local products and industries.
For the first seven years of the Fair, the Fair Board struggled to find a permanent site for the event, hosting the Fair at the Garcia Rodeo Grounds on the east edge of Elko and (once) in Wells. The Fair was cancelled twice during that time, once due to an outbreak of hoof-and-mouth disease, and once to save money for the construction of permanent facilities. That conservatism paid off, as the City of Elko acquired part of the old China Ranch in 1927, and the first Fair was held later that year at its current site.  The Fair Board invested $34,000 in 1927 and 1928 to develop the facility - approximately $450,000 in today's money - and has continued to expand the facility and produce the Fair every year in the nearly 100 years since.
These days, the Fair Board works to balance the historical nature of the event with the growing and changing population of Elko County. The Fair remains, at its core, an agricultural celebration, but now features a wide variety of attractions for modern families. The Fair will celebrate its centennial year in 2020.
Thanks to historian Jan Petersen for researching the history of the Fair.